Roam is pleased to welcome the New York based photographer Greg M. Stowell as our summer exhibition artist "no AI software was harmed in the making of this exhibit" from June 27- Aug15. This exhibition brings together the tactile warmth spanning over 20 years of simply black and white film photography by New York photographer, Greg M.Stowell. As AI tools are vigorously being used in our lives, whether in the form of for assistance or as substitution, they undeniably represent a "singularity point" in human history in the 20th century. While we eagerly embrace the convenience they bring, we must not forget that certain creations bearing the "human touch" are irreplaceable for one simple reason: warmth.
"Photography is my therapy" – Greg M. Stowell.
Stowell's documentary photography style brings us a first-person perspective of New York City, capturing both familiar and unfamiliar scenes. The camera captures iconic New York landmarks, such as the Grand Central Station. "Winter Grand Central," where the air, lighting, and atmosphere are all condensed into a single image. The horizontal perspective of Coney Island "Distant memories", with its Ferris wheel shrouded in mist, takes on a mesmerizing quality, imbued with a sense of solitude. Photography is Stowell's language to communicate with the world.
With his eyes behind the camera and his fingers on the shutter, moments become eternal as the scenery is frozen in the instant of the shutter's release, old school but timeless.
All the evidence of what has existed, the joy of fleeting moments, resides within the photographs, serving as a proof of memories. Through the lens of the camera, "Conversation at Night" pierces through the illumination, transcending the air, as if one can hear their whispers in the darkness of the night. What are they saying?
Through photography, one enters into the realm of time, creating another form of eternity. In "Saint Jobless" captured in a church in Lima, Peru 2007, Stowell finds himself amidst a group of homeless wanderers. The exact reasons may be unclear, but faith is the common thread that binds them. For them, it was Jesus Christ, for Stowell, it's the camera in his hands.
"Conversation at Night"2002
About the artist
Greg M. Stowell (b.1958) Olathe, Kansas. New York based photographer.
Photography grabbed hold of Greg when he was a teenage kid, opening his eyes and waking him to the marvels there to be found in ordinary everyday regularly overlooked life. Much of the work he commenced to do exploited the potential offered by the aesthetic virtues of black & white images (and yes, he still uses film), allowing viewers to be readily transported to another place in our color world.
Neighborhood defining venues such as small businesses, coffee shops, and the like have been warmly enthusiastic hosts to his indirectly referential style of documentary photography.
Through his work, they have enjoyed tantalizing allusions to their own immediate experience that readily draws them to places in their minds they have not regularly been.
Early years of life in the working class, bedroom community of Olathe, Kansas found Mr. Stowell compelled to migrate to New York City, where today he is a resident of the borough of Queens, New York.
Selected works
3 star i
2004
Medium: Medium format film
Untitled
2000
Medium: Medium format film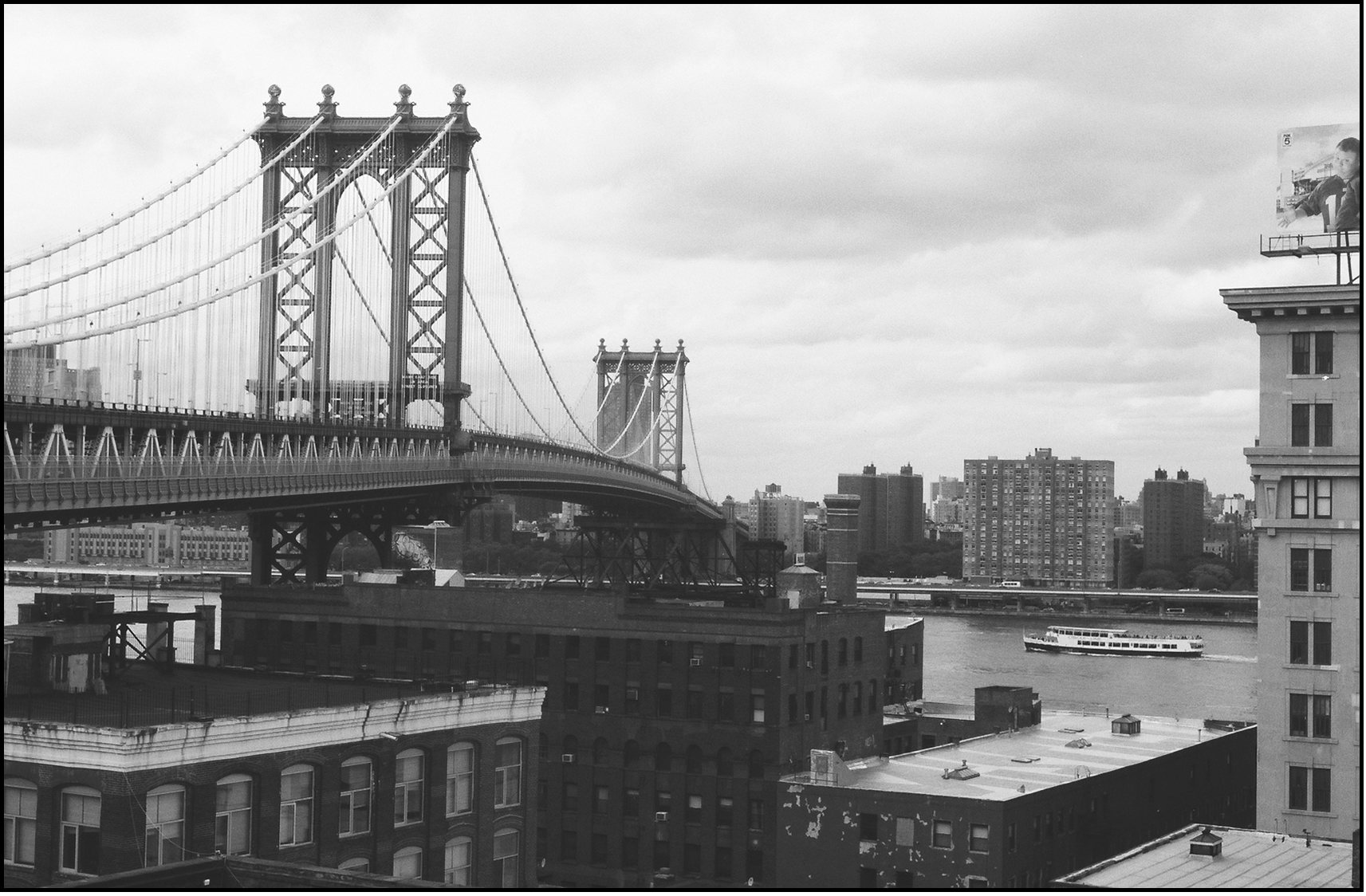 Manhattan Bridge & East River
2009